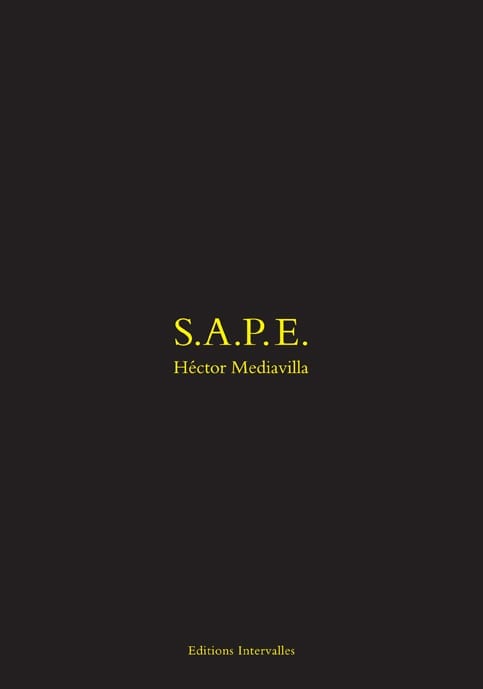 39,00 € S.A.P.E. quantity Add to cart
Published : 15 July 2013
160 pages
N° ISBN : 978-2-916355-72-6


39,00 €
Héctor Mediavilla is a Spanish documentary photographer interested in the human condition and its relationship with the environment. He has mainly photographed in Africa and Latin America since 2001.
He graduated in Economics at Esade (Barcelona, Spain). His passion for discovering other cultures naturally led him to photography. He has published pictures in international publications such as Colors, GEO, The New York Times, Time, Newsweek, Business Week, XXI, Photo, Esquire among many others.
His work has been recognized in competitions like The Hansel Mieth Prize, Picture of the Year, Center Project Competition, Fotopres 05 from La Caixa, Photo España New Talents and has also deserved a CoNCA grant.
His photographs are often exhibited internationally both in solo and collectives exhibitions. They have been shown in places like the Musée Dapper in Paris, the Museum der Weltkulturen in Frankfurt, Galleria Ollerios from Sao Paulo or the Centre Culturel Français of Kinshasa.
Since 2003 he's a member of the Cooperative Agency Picturetank, from Paris, which distributes his editorial work internationally. In 2007, with three other independent documentary photographers, he founded the Spanish collective Pandora.
S.A.P.E.
Society of Atmosphere setters and Elegant People
The S.A.P.E. is a fashion and cultural phenomenon inspired by the dandies that appeared in Congo during its colonization by the French. Congolese maintain today this myth of Parisian sophistication by wearing their finery and scrolling elegantly dressed in the streets of Brazzaville. Respected by their community, they gather around shared values and tastes, working to improve their style, their gestures in order achieve originality and distinction. In doing so, they pursue a dream: to travel to Paris and return to Brazzaville as ambassadors of elegance.
At the start of the 20th century when the French arrived in the Congo, the myth of Parisian elegance was born among the youth of the Bakongo ethnic group, who were working for the colonizers. In 1922, Grenard André Matsoua was the first Congolese man ever to come back from Paris dressed as a genuine Frenchman. His arrival caused great admiration among his fellow countrymen; he became known as the first Grand Sapeur. Supported by the respect and admiration of their community, today's Sapeurs consider themselves artists. They add a touch of glamour to their humble environment through their refined manners and impeccable dressing styles.
Reviews